Contact and More
Quick Links: Testimonials | Policies | Waiver
Here's What People are Saying
Greg Starr,

Boulder, CO – ★★★★★
Our son has been attending Superhuman Academy for several years including their summer camps. I cannot say enough good things about Nick and Adam. Their devotion to the children in their class is truly inspirational and I am in awe of how much our son has improved in his abilities and confidence.
Nancy Douglas,

Boulder, CO – ★★★★★
My daughter has participated in classes and camps with Superhuman Academy and I can't say enough about how great they are! As the only girl and smallest one in her class and camp, Zoey was a little intimidated at first, but Nick and Adam have been wonderful at drawing her out while still managing to make things challenging for her and the more advanced students. The small class size and personalized instruction were huge factors in our decision to choose Superhuman Academy over other options! Both of these factors, in my opinion, make their classes safer yet more fun!
Sofia Rossato,

Boulder, CO – ★★★★★
My son has been taking Parkour with Adam and Nick for years. Every year he improves and wants to keep coming back. It is a testament to Adam and Nick that they've created an environment where boys can have fun, learn new skills and gain confidence. Their program is top notch – from the hours of preparation that go into their end of season competitions, to the different locations for summer camps, to the one-on-one instruction in the weekly classes, these guys have the benefit of experience (both as coaches and as athletes). Highly recommend Superhuman Academy.
Jennifer Maybee,

Boulder, CO – ★★★★★
We have had the amazing opportunity to take a family class at Superhuman Academy. Because of this, I have been able to experience the great work of Nick and Adam first hand as well as seeing up close how they work with my kids. Nick and Adam are kind, patient, and encouraging teachers. They make the kids feel great about their accomplishments and the kids can't wait to come back for class each week. I am particularly grateful and impressed that they have been willing to teach classes for kids with special needs this summer. This shows the kind of heart and commitment to the community that make them a local business to be supported.
Cara Mentzel,

Boulder, CO – ★★★★★
Superhuman Academy is terrific largely because of coaches Nick and Adam. Their rapport with students is exceptional. It's evident they love kids and are committed teachers, not just parkourists. Among the many skills they teach, their parkour instruction also includes overall health and fitness, body awareness, and risk assessment. CATS gym–where classes take place–is a forgiving environment for learners of all levels. Nick and Adam work hard to establish a community where students feel safe and encourage one another. Having tried other programs in Boulder, I can confidently say Superhuman is the best place for my son.
Dan Weaver,

Boulder, CO – ★★★★★
Nick and Adam are wonderful! Our son has had a spectacular time in their regular classes, the summer camp, and the after summer camp care. Moreover, his skills and confidence continue to grow under their guidance and encouragement.
Rob Batey,

Boulder, CO – ★★★★★
Finn just completed summer camp #1 and had a blast, loving every single day. Both Nick and Adam provide such an encouraging and fun environment and simply "get" the kids and how to keep them fully entertained. Finn really bonded with the guest instructors at camp too who had fantastic experience and expertise and we're seeing a lot of back flips with twist off the diving board at the pool now! We also utilize the Sunday drop-in classes at 'Superhuman Academy' and again Finn has had so much fun, we got him involved to help push his aerial game at karate and have really seen his confidence grow in this area as a result. Keep up the great work guys.
Suzanne Jaffe Levy,

Boulder, CO – ★★★★★
My son loved this week long camp!!! Every day he was excited to come home and tell us what he did. Nick and Adam always greeted us with a smile. We just signed up for classes! This is a great option for a child who may be tentative physically and doesn't love competition. A great way for them to learn about their own strengths.
John Gancho,

Boulder, CO – ★★★★★
My 6 year old Gus had a great time at the camp. Every day he would come home with a new 'move'. Counselors/instructors are great; very positive, happy to be there, and interested in the kids. The only bad part for me was seeing the stuff the kids are doing and realizing there is no chance my old joints would even attempt it.
Eldora Meier,

Boulder, CO – ★★★★★
Flynn had a super fun time at the camp and it was nice to have lots of different locations. The kids also really enjoyed seeing the videos you made of them while they were training. The only thing I would have liked as a parent, would be for the camp to have been full day! However, this might be a lot for the kids, especially if the Summer is super hot. Would definitely recommend you guys to any athletic kids!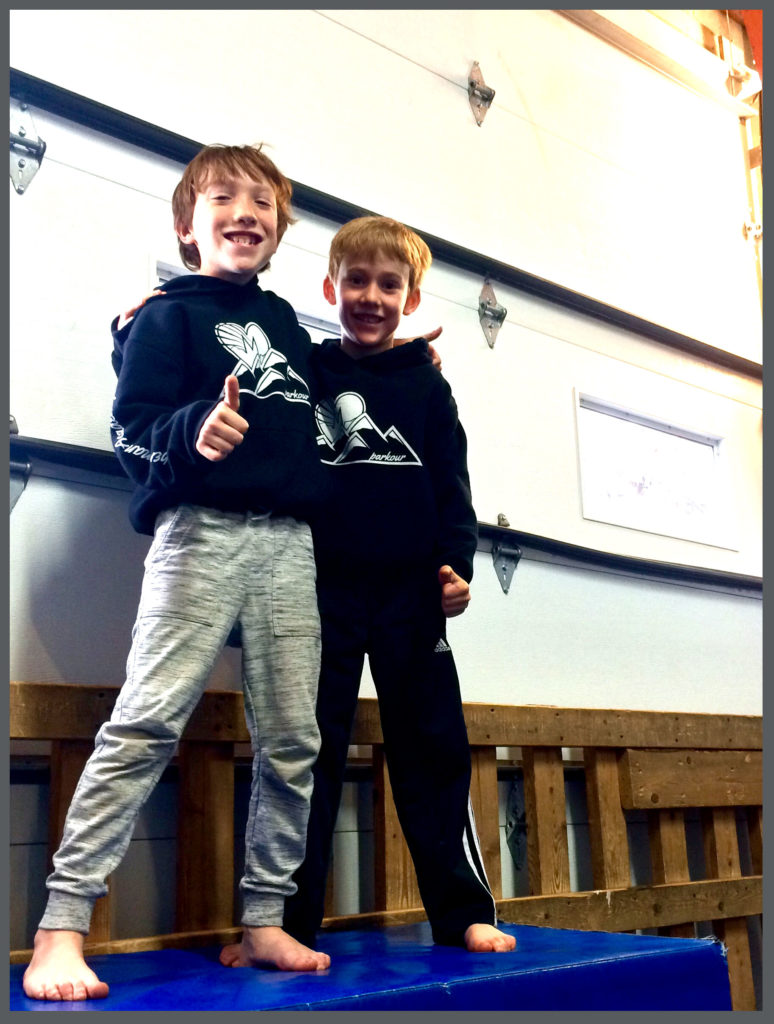 Policies
▪
OBSERVING CLASSES:
If you are here to observe a class please do so from the waiting area provided upstairs. No one is allowed in a class, on the floor, or on the climbing walls without a Waiver of Liability having first been signed on behalf of the participant.
▪
RETURN POLICY:
In order to keep our tuition fees the lowest in the area, pay insurance, rent, etc. we must insist a no-refund policy for all quarterly enrollment, class passes, and camp purchases. All class passes are valid for 1 year from date of purchase.
▪
MAKE UP POLICY:
If your child will be absent from class please notify us in advance, otherwise we cannot permit them a make-up class. A student is then allowed to make-up a missed class during the current quarter.
Make-ups are scheduled via email, by calling in a request, or speaking to an instructor in-person. When scheduling a make-up class the following is required: child's full name, class date and time being made-up, class day and time requested for make-up. If you do not reach personnel when calling, please leave a message and we'll get back with you promptly!
*Calling and scheduling a make-up class does not guarantee availability. If there is availability in the class, your child will be allowed to participate based on where they fall on the make-up wait list. If the class has full enrollment but there is an absence, the first person on the wait list will be allowed to participate.
Absences are not transferable from one quarter to the next. We encourage your child to be as consistent as possible to ensure their safety and improvement in our program!
Waiver of Liability
WAIVER OF LIABILITY: If this is your first class, please complete our waiver before beginning: Click Here